A fruity place for fruity people
Introducing Cherry and its muva, Caroline, your local non-binary Black baddie
Born from my senior year undergrad design course, Cherry Magazine is a safe space to explore LGBTQ+ aesthetics. As someone obsessed with style, art, and pop culture, the seeds planted in that design class were impossible to not water. Cherry had a good run in its first two years as a collaborative zine. From 2018 to 2019, our warm, wonderful team of BIPOC creatives delivered hot takes and even hotter looks to this passion project.
But now, it's time for a new chapter. When the pandemic geared up, I really had to start practicing what I preached. I listened to my body, mind, and spirit, and realized: I had to start self-caring. For real. 2020's whirlwind of the coronavirus pandemic, civil unrest, and a dicey election made that choice — to nurture myself or not — a life or death one.
A monumental part of my self-care has been disentangling myself from the tentacles of capitalism and cooling my lust for productivity. Because of that, I made the arduous decision to put Cherry on ice. In the moment, it felt like failure or like I was folding. But as I type this, on the precipice of re-launching Cherry as a newsletter, I feel affirmed in my decision.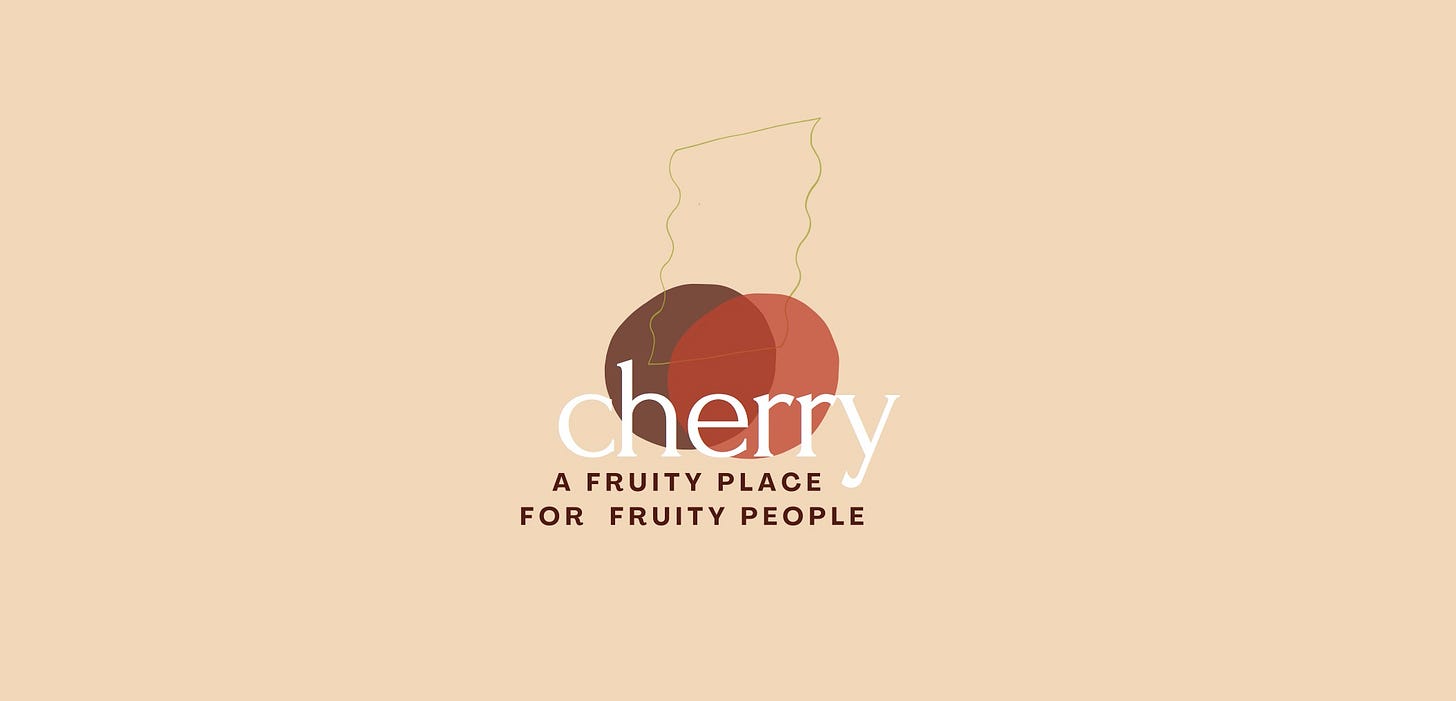 For one, this will give me the chance to raise capital to pay Cherry contributors — something I couldn't do and didn't know how to do as a broke ass college grad balancing grueling barista shifts and creative fervor. I'm currently listening, learning, and taking loads of notes, so I can give queer folks a platform properly (and ethically) in the future.
Secondly, I'm in love with Cherry again. I hope you'll be able to feel this renewed romance in these letters, on Cherry's Twitter page, on Cherry's Instagram feed. I'm not 100% happy and healthy — far from it. TBH, I don't think any of us will be totally good for awhile. But I plan on seeking out and clinging onto golden nuggets of queer joy, soft gender-bending looks that have me absolutely gagged, and holistic health care that can benefit everyone, especially LGTBQ+ folks.
I hope you'll come with me on this extra AF, glamorous, radical, and down-right fruity journey.
Sending love (and artisan toast slathered with honey goat cheese and cherry jam),
Caroline Colvin
Get your ticket to a very gay, very fruity ride — and bring your friends, too!